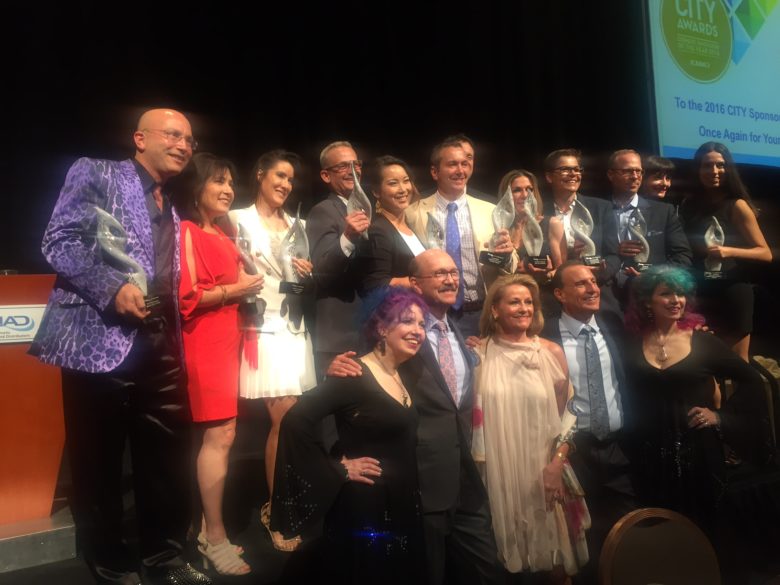 LAS VEGAS, NV (September 1, 2016) – Gavée Gold was recently honored as the recipient of the Innovation Launch Campaign Award at the 12th Annual Cosmetic Innovator of the Year/CITY Awards Dinner, hosted by the Independent Cosmetic Manufacturers and Distributors (ICMAD) in Las Vegas. Gavée Gold was selected from over 120 entries in 14 different categories. The award was received as a result of Gavee Gold's participation in the New Beauty Test Tube program.
In January 2016, Gavée Gold partnered with NewBeauty Magazine to launch the Gavée Gold VIP Founding Members Club. Gavée Gold participated in a NewBeauty advertising campaign that included 100 top beauty influencers who tested five different Gavée Gold products over a four week period. That test was followed by the NewBeauty TestTube Program where 10,000 samples of the Gavée Gold Liquid Gold Peptides were distributed to NewBeauty TestTube members. NewBeauty was instrumental in the nationwide launch of the Gavée Gold skincare collection with an exclusive invitation to the TestTube Program participants to join the Gavée Gold VIP Founding Members Club. The success from the campaign initiated an additional Fall Forecast Advertorial with NewBeauty where readers were introduced to the Gavée Gold VIP Founding Members Club.
"We are excited to partner with such a highly respected publication like NewBeauty to introduce our monthly subscription program, the VIP Founding Members Club, as well as gain nationwide exposure for the Gavée Gold skincare collection," said creator, Tiffany Andersen.
Tiffany Andersen's Gavée Gold Skincare Collection was founded in 2012 by Tiffany Andersen, a medical aesthetician and holistic health practitioner. Her mission to develop a safe skincare line came from having to overcome unimaginable adversities in her own life, including a major car accident and a battle with Stage IV Non-Hodgkin's Lymphoma. The Gavée Gold Skincare Collection utilizes a process that organically extracts the living minerals from gold, resulting in a metal-free, purified 24 karat liquid gold that is highly bio-available. Gavée Gold has removed all carcinogens, hormone disruptors, and neurotoxins according to the strict European cosmetic guidelines used today. Gavée Gold products include certified organic ingredients, green friendly preservatives, food grade essential oils, and are cruelty-free.
For more about Tiffany Andersen and Tiffany Andersen Brands, Gavée Gold or call 1-800-684-8298. Follow us on Facebook @gaveegoldcollection, and on Pinterest, Twitter, and Instagram @gaveegold
###
What questions do you have?
We'd love to hear from you!