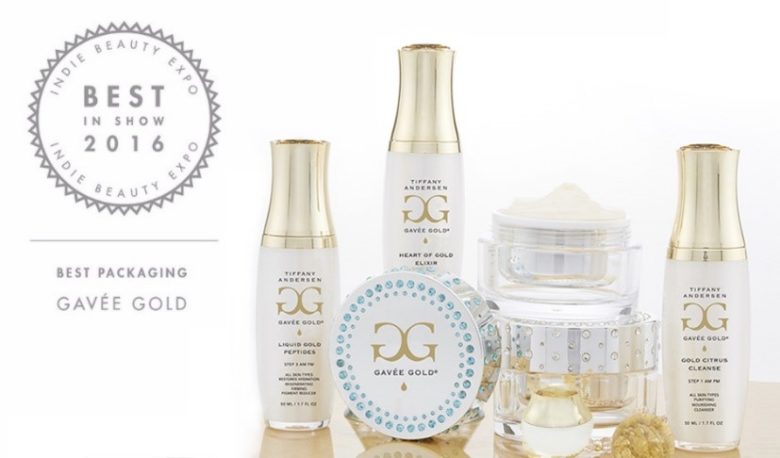 LOS ANGELES, CA (January 23, 2017) – The Gavée Gold Skincare Collection was awarded Best Packaging at the second annual Indie Beauty Expo 2016 Best in Show Awards. This was the first year for the new category. The winners were broadcasted on January 18, 2017 via Facebook Live from the Los Angeles IBE show at the California Market Center in Downtown LA.
The nominations were narrowed down from 230 brand exhibitors in both the 2016 Los Angeles and New York IBE shows. This year there were 88 brands nominated in a total of 21 categories. The judging panel of eight experts in the beauty and wellness industry included: Julie Keller Callahan, Editorial Director at American Spa; Jayme Cyk, Beauty Director at Violet Grey; Deven Hopp, Beauty Editor at Byrdie.com; Bart Kaczanowicz, Influencer, InHautePursuit.com; Amanda Jo, Influencer, theOrganicBunny.com; Romain Galliard, founder of The Detox Market; Jessica Matlin, Beauty Editor at Teen Vogue and Jamie Stone, Influencer, HonestlyJamie.com.
Top organic beauty blogger, Amanda Jo from The Organic Bunny, along with one of the judges commented, "I love when brands go above and beyond to give their brands and packaging a unique and personal touch. Opening and using products with quality, enticing designs always makes the consumer's experience much more enjoyable. I think Gavée Gold gave their packaging 110% and they deserve to be awarded the of Best of Packaging."
The recently updated packaging of white and gold reflects a luxury look that competes with any mainstream brand on the market. The Gavée Gold Collection proudly maintains high-performance results while continuing to use organic, toxin-free, and one-of-a-kind elements in all their products. The innovative ingredients include metal-free 24K Liquid Gold and Mineral Cell Salts, which are both purified like a fine wine. This organic extraction process makes it light years ahead of other skincare lines containing gold because it purifies through the only method that allows its beneficial mineral content to be absorbed by the skin while being metal-free.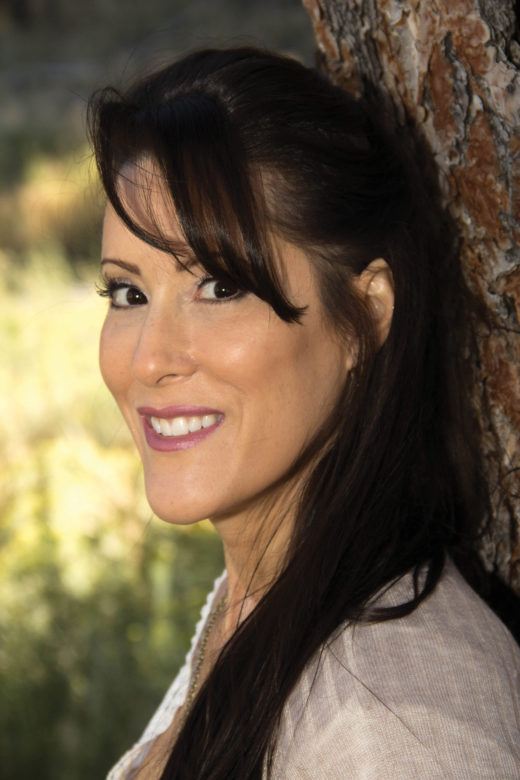 Gavée Gold Anti-Aging Skincare Collection was founded in 2012 by Tiffany Andersen, a top Las Vegas medical aesthetician and holistic health practitioner. Her mission to develop a safe skincare line came from her having to overcome unimaginable adversities in her own life, including a major car accident that left her nearly paralyzed and the diagnosis and treatment of Stage IV Non-Hodgkin's Lymphoma. These struggles have furthered Tiffany's dedication and commitment to success, as she describes in her award-winning memoir Finding Faith. Gavée Gold Skincare Collection utilizes the strict guidelines of the European Union Directive and the products include certified organic ingredients, green friendly preservatives, food grade essential oils, and are cruelty-free.
For more about Tiffany Andersen and Tiffany Andersen Brands, Gavée Gold or call 1-800-684-8298. Follow us on Facebook @gaveegoldcollection, and on Pinterest, Twitter, and Instagram @gaveegold
###
What questions do you have?
We'd love to hear from you!