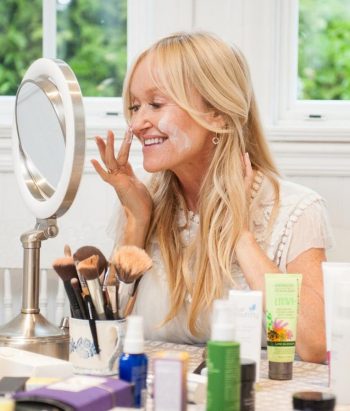 The Gorgeously Green beauty guru, Sophie Uliano, reviewed the Gavée Gold Collection on her website (sophieuliano.com). See what she has to say about our line of non-toxic, metal free skin care that is beneficial to all skin types. Take our free skin type quiz to build your own Gavée Gold skin care regimen.
Sophie Uliano's Review
Gold particles in skin care are big business. Some brands at the highest end of the laughably-expensive spectrum use gold in their products, which supposedly fights wrinkles, brown spots and blah blah. I'm extremely skeptical of this ingredient because for the most part, colloidal or nano-particles are used, which can deliver unhealthy particles deep into the skin. Moreover, gold in skincare can be a major allergen.
All that being said, I was interested to sample Tiffany Andersen's Gavee Gold skincare collection because Tiffany adheres strictly to Environmental Working Group (strict as far as non-toxic is concerned), standards. Having survived stage IV non-Hodgkin's lymphoma, Tiffany realized that her body could no longer filter toxins, so she needed to create a line that didn't contain them in the first place.
Read the rest of this review on Sophie Uliano's website: http://sophieuliano.com/reviews/gavee-gold/
Read more at Wellness Magazine
What questions do you have?
We'd love to hear from you!